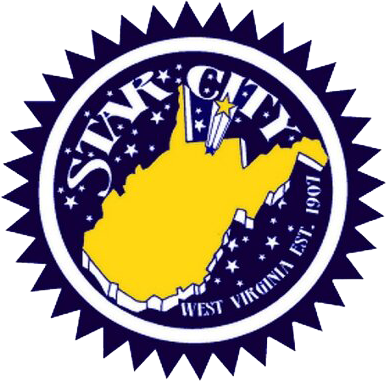 STAR CITY, WEST VIRGINIA
Upcoming Meetings
Planning Commission Meeting Scheduled
Monday, February 6, 2023
@ 6pm
Council Meeting Scheduled
Tuesday, February 7, 2023
@ 6pm
Community Information
City Offices will be CLOSED on Monday, February 20, 2023 in observance of Presidents Day.
The Town of Star City is Conducting an Online Survey for our Comprehensive Plan.
The Comprehensive Plan identifies land use, community/economic development, transportation, housing and infrastructure issues in Star City and Citizen input is vital to the planning process.  Please click the link below to take the short survey, as we value your thoughts and opinions.
Comprehensive Plan Survey Link
Water and Sewer Rate Increases became effective on July 1, 2022.  Please CLICK HERE for the updated Water ordinance, CLICK

HERE

for Water Tariff Form No. 12 Notice and CLICK HERE for the updated Sewer Ordinance, CLICK HERE for Sewer Tariff Form No. 12 Notice.
Please call the Business Office with any questions or concerns at
304-599-3550.
Should you need emergency assistance with issues such as water or sewer breaks, outside of normal business hours,
please contact 304-376-7664.
Our approved budget can be viewed by clicking the following link: