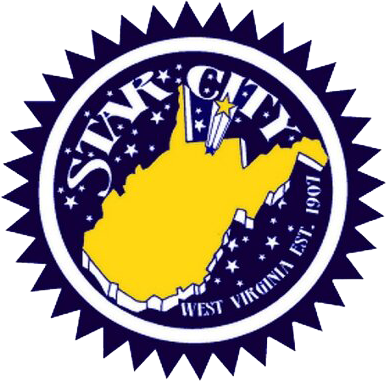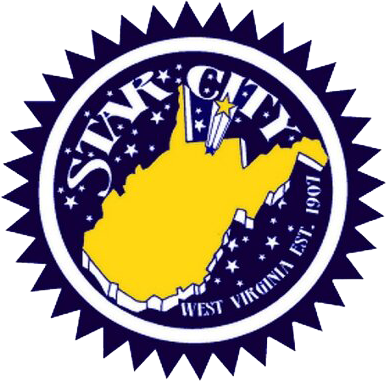 STAR CITY, WEST VIRGINIA
Upcoming Meetings
Regular Council Meeting Scheduled
Tuesday, June 29, 2021 @ 6pm
This meeting will take place in person and  via Zoom for anyone who prefers not to attend in person.
Anyone who wishes to attend via Zoom, please contact the business office to request the meeting link be emailed directly to you.

Community Information
RIBBON CUTTING AT EDITH B. BARILL RIVERFRONT PARK
The Upper Monongahela River Association will be holding a ribbon-cutting ceremony to unveil ten plaques on the history of Star City,            West Virginia at
Edith B. Barill Riverfront Park at 11 AM on Saturday, June 26,
2021.
This project is one of several contributing to the recent revitalization of the Star City Riverfront.
The plaques were produced through a grant to the Upper Monongahela River Association from
the West Virginia Humanities Council, with matching donations from Morgantown North Rotary Club, the River Town Program, and the Town of Star City. Research was conducted with the assistance of the Aull Center for Local History & Genealogy Research (an annex of the
Morgantown Public Library System), the West Virginia & Regional History Center, and the
Native American Studies Program at               West Virginia University. Founded in 1907 by the workers of the nearby Star Glass Company and named by factory manager Louis Kauffeld, Star City holds a unique place in the history of the Morgantown area, Monongalia County, and the state of West Virginia. The ten plaques to be unveiled at     Edith B.
Barrill Riverfront Park in Star City cover that history in detail from the precolonial era to the

modern day.
Topics of plaques include:
• Pre-Star City
• The Founding of Star City
• Socialism in Star City
• Immigrants in Star City
• The Star City Ferry
• The B&O Railroad in Star City
• The Star City Bridge
• The Lock-and-Dam System in Star City
• The Monongahela River's Water Quality
• & Recreation in Star City
Any and all interested parties may attend the ceremony. Masks are optional and refreshments
will be provided.
Should you need emergency assistance with issues such as water or sewer breaks, outside of normal business hours, please contact 304-376-7664
Our approved budget can be viewed by clicking the following link: