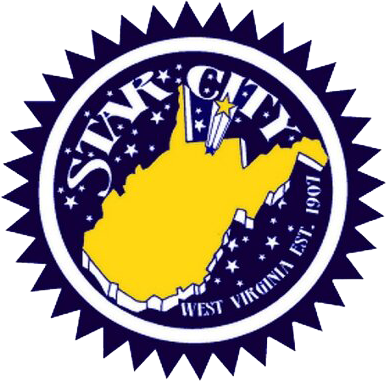 STAR CITY, WEST VIRGINIA
Community Information
EFFECTIVE IMMEDIATELY!!
CITY HALL IS CLOSED TO VISITORS.  HOURS OF OPERATION HAVE BEEN MODIFIED AS FOLLOWS:  THE BUSINESS OFFICE IS OPEN FROM 9AM – 3PM MONDAY – THURSDAY AND THE OFFICE IS NOW

CLOSED

ON FRIDAY'S UNTIL FURTHER NOTICE.   
PLEASE PUT ALL PAYMENTS IN THE DROP BOX. 
IF YOU NEED TO INITIATE UTILITY SERVICES, OBTAIN A LICENSE OR PERMIT, PAY A CITATION OR HAVE ANY OTHER QUESTIONS OR CONCERNS, PLEASE CALL 304-599-3550 FOR ASSISTANCE MONDAY THROUGH THURSDAY.  IN ADDITION, EMAIL ADDRESSES ARE AVAILABLE UNDER THE "DEPARTMENTS" TAB, IF YOU WOULD YOU PREFER TO EMAIL A SPECIFIC PERSON.
THE POLICE DEPARTMENT IS OPERATING AS NORMAL AND IS RESPONDING TO EMERGENCY CALLS.  TO DISPATCH AN OFFICER FOR AN EMERGENCY, PLEASE CALL 911.
SHOULD YOU NEED EMERGENCY ASSISTANCE WITH ISSUES SUCH AS WATER OR SEWER BREAKS OUTSIDE OF THE HOURS LISTED ABOVE, PLEASE CONTACT MAYOR REID AT 304-685-5566.
Please click the link below to read the West Virginia University Fact Sheet regarding the Coronavirus.
*Our approved budget can be viewed at the following link: FY2020 Budget